First up loss for Prems
Vs Queens Park 13 June Surrey Park
QP 2 vs Old Boys 1
https://www.youtube.com/watch?v=AgREO24X0iU&t=2003s
Season 2020 kicked off on Saturday after a long wait. Since returning from lockdown the team has had three weeks training together and fortunately, we have largely retained the talented squad we had pre-lockdown. Once again there are only four teams competing for the Donald Gray Memorial Cup and it shapes as a tighter season with no Southland team in the Southern League.
A trip to Surrey Park was first up on the agenda. Both teams started out somewhat nervously with a lot of ball given away and passes going astray despite the good conditions. Although not many chances were being created, Old Boys were spending more time in their own half.
An innocuous throw in was the catalyst for the first goal for Park as Old Boys failed to clear the danger of the bouncing ball. When the shot came in it looked tame but had the keeper wrongfooted and unable to palm it away.
Old Boys started to build into their attacks and created several half chances prior to the break but weren't testing the opposition keeper. The half time message was to be more direct in the attacking third.
The second half saw both teams looking to score the next vital goal. There were half chances at either end but ultimately the addition of subs for both teams made the telling difference. For Old Boys a move up front for Cuffy led to Old Boys tying the match when Antoine delivered a great cross for Cuffy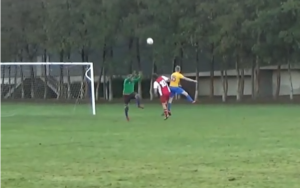 to head over the oncoming keeper. Almost from the kickoff Old Boys almost took the lead as Cuffy flicked on for Kyle who was able to round the keeper, but Park's defence had scrambled back to cover the line.
As the game appeared to be headed for a draw, Park found a winner from a very acute angle on the touchline much to the home crowds delight. It was a blow for the men in red who felt they had the better of the 2nd stanza and deserved a point.
Stovy was POD for Old Boys, who also handed over the Larry O'Rorke Challenge Cup for the time being. Next week, Old Boys are off to Gore which will be a tough game and a bounce back is required.