Old Boys clinch Pre Season Cup
Old Boys vs Gore Pre Season Cup Competitive Final
3-3 FT 5-3 penalties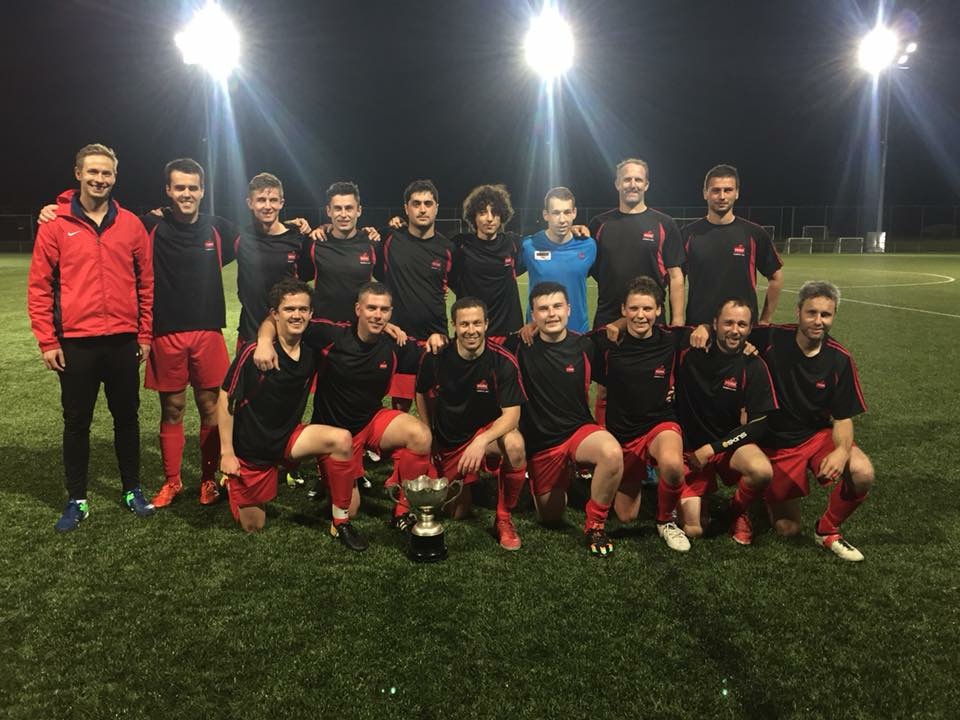 The two teams took vastly different routes to the final with Gore coming through the tougher group in pool play. They were undefeated with wins over Winton, Thistle and Park. Old Boys on the other hand opened with a draw in a friendly with the new Southland U18 team followed by comfortable 6-1 and 4-1 wins over Southend and Waihopai.
A nice Wednesday evening greeted both teams at the Turf. Gore settled into their work quickly and looked more assured. Old Boys guilty of giving the ball away cheaply with some panicked passes. Gore were first on the scoresheet through Jack who was recently returned to the league from the Southland team. He showed plenty of Southern League class as he volleyed a great finish from a cross in from the left which left Frank with no chance in goals.
Jack was on the scoresheet again shortly after when he beat the offside trap and was able to chip Frank once through 1:1. Some poor defending compounded Old Boys woes when a break down in communication and a failed back pass led to a further goal for Gore. With half an hour played and 3-0 down things were looking dire for the men in red.
At about this stage Old Boys decided that they actually were capable of stringing some passes together and started to make inroads out wide via Joel and Ethan. From an attacking corner Andrew Rushton was in a great possession to volley home from close range for his first goal for the club. This goal seemed to breathe life into the tie giving the Reds some belief as they finished the half the stronger of the two teams despite being behind on the scoresheet.
Just on half time we were unlucky not to get a penalty and the chance to peg another one back. A Gore defender was guilty of practically catching a cross that came in after heading it down into his palms. Everyone at the ground including the touchline ref seemed to think it was a clear handball but the man in the middle was unmoved waving away all protests.
As the teams retook the field our players were confident they were in the game and anything was possible. Plenty of subs going on for both teams and we were winning the battle in the midfield which was giving us some chances up front. Antoine was making a nuisance up front with Brandon and from one such foray was able to launch a long range effort which the keeper couldn't stop.
This one was shaping as a battle to the end and just when the fans were giving up hope Brandon popped up and was able to put away a 1:1 effort close to the goal. 3-3 the full time score then and straight to penalties with both coaches having agreed prematch to forgo extra time. One final bit of drama before full time involved Frank and Fozzie taking each other out. Brandon offered to go in goals for the shootout and was a fantastic volunteer.
Coach Lindsay placed his faith in the younger members of the squad and he was rewarded as Ethan, Mike P, Oscar, Antoine and Brandon all took clutch pens while for Gore only 3 of their 4 attempts were scored with Brandon making a great save to deny the other taker.
So the Cup comes back to Old Boys after a year away. The effort and belief of the players to get back from 0-3 down was amazing and this is a team that is on the rise.